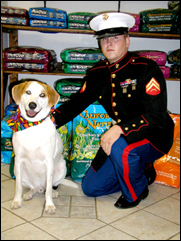 By: Angelle Bergeron
C*A*P*S

C.A.P.S. co-presidents Cory and Christy Kusick became acutely aware of the staggering number of pets left homeless or at the local animal control shelter each time a wave of marines were deployed for the war.

While America's young men and women are fighting the war in Iraq, it is some comfort to them knowing their canine counterparts are safe and happily situated in a good home. The Carolina Animal Protection Society is working to ensure the pets of Marines deployed from Camp LeJeune Marine Base in Jacksonville, North Carolina are protected through its guaranteed no-kill shelter and foster program for needy animals.

C.A.P.S. co-presidents Cory and Christy Kusick, like most people in Jacksonville, became acutely aware of the staggering number of pets left homeless or at the local animal control shelter each time a wave of marines were deployed for the war. Camp LeJeune is the biggest Marine base on the East Coast and members of the 2nd Marine Division represent roughly half the population of Jacksonville, Kusick said. When thousands are deployed, often with less than 48 hours notice, animals are literally turned into the streets.

"The Marines is in my heart and my blood and will never go away," said Kusick, who is now a civilian. "Once a Marine, always a Marine and you try to help out your brothers."

But Kusick also knows that when duty calls, everything else takes a back seat. "A lot of times, wives come second, and pets come last," he said. Pets often get lost in the last-minute shuffle of relocating families for deployed military personnel.

In the summer of 2003, during the first large deployment of troops to Iraq, the C.A.P.S. cat coordinator stepped up to foster a dog for a Marine she knew. That's when the Kusicks decided it was time to organize a formal foster program to match military personnel and families willing to care for their pets, before the inevitable deployment.

"It's hard to find foster families because they usually want to adopt," Kusick said. Host families may be reluctant to give up a pet after several months of bonding. Sadly, many of the military personnel, unsure about what the future holds, would rather opt for relinquishing their pets anyway. Kusick said he receives several e-mails every week from military personnel scrambling to find homes for their pets at the last minute, and must often refer them to area shelters.

The Onslow County Animal Shelter is poorly funded and doesn't even have a veterinarian on staff, Kusick said. "A lot of people don't realize when they bring their pets to the pound, there is a chance they will be adopted, but a bigger chance they will be put down," he said.

Calls to the shelter weren't returned, so the number of animals euthanized on a monthly basis was unavailable at press time.

The best way to address the problem is through education, awareness and thoughtful preparation, Kusick said.

About two and a half years ago, when the Kusicks visited the local shelter to adopt a companion for their other rescue dog, they were horrified at the conditions. "I asked which dog hasn't been looked at, has been there the longest and was scheduled to be killed," Kusick said. When he took "Ruby" outside, Kusick discovered 35 to 40 ticks. "She had kennel cough, was infested with fleas and had been at the kennel for two weeks," he said.

That's when Cory and Christy became involved with C.A.P.S., a non-profit, grass roots organization that provides food, shelter and veterinary care for the animals it serves. The organization was formed in 1977, when "there was nothing here, not even a shelter, and there were a lot of cases of neglect and abuse," Kusick said. Last year, the computer-savvy Kusicks were named co-presidents and committed to increasing exposure of the organization and its mission through the website and other media. In his efforts to increase awareness, Cory has done radio and television interviews and routinely speaks to school groups and community outreach organizations about spaying/neutering and responsible pet ownership. C.A.P.S. began a courtesy page post on its website for adoptable animals because so many pets of military personnel continue to find their way to the pound.
"Responsible pet ownership means if you are being deployed, plan ahead," Kusick said.
Becoming a foster family is fairly easy and requires filling out an application online at the C.A.P.S. website, making sure all of your other animals are spayed/neutered and have current vaccinations and ensuring you will transport the foster pet to adoption days (when applicable) and the veterinarian. "They must give lots of love and attention and ensure the animals are treated like a regular member of the family," Kusick said.

About a year ago, Natura Pet Products began donating a monthly allotment of their California Natural brand dog and cat food to C.A.P.S Foster Care Program.
"I get contacted a lot by organizations for donations. This really tugged at my heart strings because I get this picture of their human companion all of a sudden forced into a terrible position, where they have to find a home for their dog really quickly," said Anthony Bennie, eastern U.S. director of sales for the family-owned company of all-natural products. "It's very difficult for the service person to face the fact that they are going to have to give up their animal. We thought, in our small way, if we could help CAPS help the military folks feel better about that animal, at least they can go off to their overseas deployment in good conscience."

Good nutrition is imperative to any animal's overall well being, Bennie said. "As a holistic philosophy food manufacturer we believe it is important to address the mind, body and soul. We're helping with the body and CAPS is doing their best with the rest."
Natura hopes their contribution will help inspire others to help in such efforts nationwide. "We want to do our part, even if it's only in one little corner of the world," Bennie said. " A lot of companies would have backed away from this because they don't want to be a part of the controversy. We believe it's not about supporting or not supporting the war in Iraq. It's about helping the animals and also the brave people that are doing the job they've been assigned to do."

Indeed, shelters throughout the country have been experiencing an influx of abandoned animals, relinquished by relocated and deployed military personnel or their over-burdened spouses left behind. "Back in 2001, the Humane Society developed resource to help agencies put together a program to respond to people who are deployed who can no longer take care of their animals," said Kate Pullen, director of animal sheltering issues at HSUS, the nation's largest animal protection organization.

Gleaning figures from shelters of stray and abandoned animals is difficult enough, Pullen said, without trying to distinguish which is the result of military deployment. However, anecdotally, Pullen said the since 9/11, the HSUS has experienced "quite an increase in requests from shelters trying to put together such (rescue/foster) programs," particularly in areas with high concentrations of military personnel. "In response, we created a lot of resources for owners and shelters to make the process more smooth," she said.

With all the efforts of C.A.P.S. and other such organizations, horror stories of abandoned pets abound. "We heard about a woman who left for Iraq with the promise that her roommate would take care of the cats," Kusick said. "She just let them go. We hear of dogs being dumped in the woods all the time."
C.A.P.S. frequently donates cat and dog food to military personnel trying to make ends meet. "If we get a call from someone who is giving up because they can't afford to feed it, we try to help out," Kusick said. "If they are having a bad month with money, I will go over and drop off a bag of food."

Still, increased education and awareness is the largest component to resolving the problem, said Kusick, who is always available to speak to interested audiences.
C.A.P.S. is strictly supported by donations and fundraisers. The largest fundraiser in its history, a fine art auction, is scheduled for April. To learn more about C.A.P.S., visit their website at www.capsrescue.org.
For more information about the HSUS and how
to form your own foster/rescue program, go to
www.animalsheltering.org.