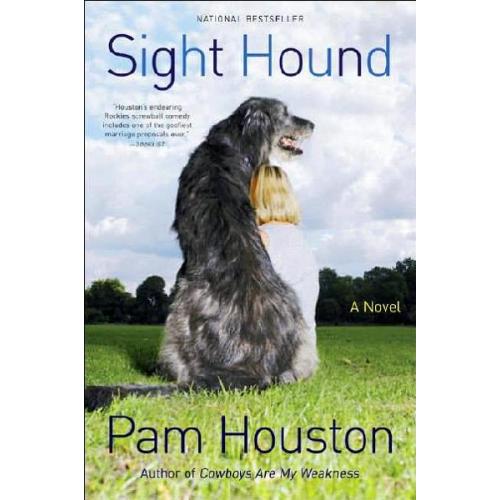 By: Julia Kamysz Lane
Sight Hound - Pam Houston

Few books successfully pair humor with pain. Pam Houston, author of the critically acclaimed short-story collection, Cowboys Are My Weakness, accomplishes this feat in her quirky first novel, Sight Hound. Those readers lucky enough to have shared their lives with a special pet will laugh through tears as they page through Houston's moving tribute to her real-life late Irish Wolfhound, Dante. While this heartfelt story of a woman and her dog will obviously attract dog lovers, the life lessons the woman learns from her dog will have universal appeal.
Attractive and intelligent, Rae Rutherford is a 39-year-old, bisexual playwright who divides her time between a ranch in rural Colorado and an apartment in Denver. Her constant companions are wise, worrywart Dante, an Irish Wolfhound, and simple, carefree Rose, a Labrador retriever. At the ranch, Rae also depends on caretaker Darlene for managing her day-to-day affairs, astute relationship advice and pet-sitting.
Rae values her unconventional family more than ever as her live-in boyfriend, Peter, recently left her and Dante was diagnosed with osteosarcoma, which required that one leg be amputated. He is in remission, but she knows that one day the cancer will be back and she will lose him, too.
Dante's veterinarian, Dr. Evans, and vet school student Brooklyn amaze Rae with their dedication to Dante's health. What she fails to see, at first, is that they are equally in awe of her and her deep love for this special dog. She comes to realize that even under difficult circumstances, Dante finds a way to draw people to her when she is most vulnerable to their company.
Since animals are clearly equals in Houston's eyes, each pet is given the opportunity to expound on their role in Rae's life. In less talented hands, this could have gone awry and been overly sentimental. Instead, it is refreshing how Houston imagines the animals' unique perspectives.
For instance, in sharing his philosophy, Dante explains what it means to love someone unconditionally and why it is so hard for people to do it: " 'Buddha said, 'Your work is to discover your work and then with all your heart to give yourself to it.' My work, this time around, was to teach my human that she deserved to be loved. And faith, of course, because you can't have love without it."
Dante is doing a good job, because against her instincts, Rae gives in to her attraction to a younger man and actor, Howard. This is an important turning point for Rae: "I was too old for him and too old for new love, but I'd finally gotten around to cultivating something I might one day call faith and there seemed no time like the present to test it."
While they might seem mismatched, Howard is exactly what Rae needs; she is the "straight man," so to speak, to his effeminate, melodramatic personality. Naturally, Dante and Rose approve of anyone who makes Rae happy. Howard further endears himself to the dogs by making up silly songs like "No One Ever Gives Me Steak" (sung to Howard Jones' "No One Ever Is to Blame"). His character stubbornly provides comic relief when Rae is at her most gloomy and thus, he is more likable in some ways.
It takes time to warm up to Rae, though the character's complexity ultimately wins over the reader. By the end of the journey, she understands what Dante had been trying to teach her all along: "I wanted her to see that the only life worth living is a life full of love; that loss is always part of the equation; that love and loss conjoined are the best opportunity we ever get to live fully, to be our strongest, our most compassionate, our most graceful selves."

***

Julia Kamysz Lane is the author of New Orleans for Dummies, 3rd Edition, which features dog-friendly travel advice. Email her at neworlanes@earthlink.net.