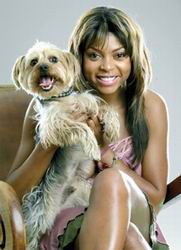 Taraji P. Henson & Willie

Taraji P. Henson is well remembered for her role as Yvette in Baby Boy, a Columbia Pictures feature, written, produced and directed by John Singleton. She also costarred with Mo'nique in the indie comedy feature Hair Show which had its theatrical release in October, 2004.

Taraji starred for three years as Raina Washington, the youngest female detective on Lifetime's The Division. She costarred in the CBS Murder She Wrote Movie, The Last Free Man, starring Angela Lansbury and Phylicia Rashad, and in B.E.T./Artisan Entertainment's film, Book of Love, with Richard T. Jones and Robin Givens. Taraji starred in the Aaron Spelling Production, Satan's School For Girls, with Shannen Doherty, Kate Jackson, and Julie Benz. On series television, she has appeared in featured roles on ER, Felicity, Strong Medicine, and the WB's The Parent'Hood, Sister, Sister, and Smart Guy.

She lives in Los Angeles with her son, Marcell and their spry three-year-old silky named Willie.

What is his idea of perfect happiness?

Getting rubbed on his belly and lots of kisses.

What is his favorite treat?

Momma's left over eggs!

If he could change one thing about himself, what would it be?

He wishes he could go EVERYWHERE with momma and his brother.

What is his most treasured possession?

His QUACKIN' Ducky!

What is his most endearing quality?

Lovin!!!!!

Assuming there is such a thing as reincarnation, what or who might he have been in a former life?

A famous actor or a famous suave singer like Nat King Cole

Is there anything that embarrasses him

People watching him poop.

What is it that he dislikes most?

Other male dogs in his house.

What is his greatest fear?

Being alone for long periods of time.

What is his favorite place?

In the truck with his head out of the window

What does he really like in other dogs?

He likes when they play nice.

Does he have a motto?
Dance like nobody's watchin' and love like you've never been hurt!!!!