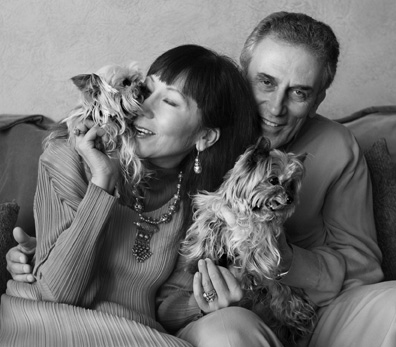 Amy Tan and Bubba

By Lisa Robinson


Writer Amy Tan's accomplishments in the literary arena are too numerous to mention. The prolific author of The Joy Luck Club, The Bonesetter's Daughter and The Kitchen God's Wife recently lent her time and energy to the publication of Tails of Devotion: A Look at the Bond Between People and their Pets, by Emily and David Pottruck. Her forward appears in this poignant, beautifully-assembled coffee table book of photographs of San Franciscans and their pets. It is reviewed by Monica Collins in our "Dog Eared" book review section.

Tan lives in San Francisco and New York with her husband, Lou DeMattei, and their two canine companions, Bubba and Lilli. It is Bubba who took the time to help answer our Inner Dog Questionnaire. We thank Amy and Bubba for their time and thank Lilli and Lou for sharing them with us.


What is his idea of perfect happiness?
Reading in bed with me, especially the story, How I Became a Giant Three-Pound Dog. He reads first until he laughs so hard he can't go on, then I take over from there.

What is his favorite treat?
Natural Balance turkey roll, sliced thin and served on a bed of fresh linens.

If he could change one thing about himself, what would it be?
A taller set of back legs so that when he pees he can hit something higher than a blade of grass.

What is his most treasured possession?
The Evil Little Pink Pig on a Keychain. The pig once belonged to Matt Groening, The Simpsons' creator. I accidentally sat on the pig, who was stuck in the backseat of Matt's car, and it instantly screamed and snorted and wheezed, which just about gave me a heart attack. Bubba thought that was hysterical. And he, too, started to snort and wheeze. So Matt gave it to him.

What is his most endearing quality?
He's a "whatever" kind of guy. He'll go along with anything and jump into any bag and go anywhere--to India, to the manicurist, to a boring conference, even a conference for manicurists in India. Anything is fine with him, whatever I want. And if I'm running late and still putting on my makeup, he doesn't start whining, "We're laaaaaaaate," like some men will do. He just looks at me and grins.

Assuming there is such a thing as reincarnation, what or who might he have been in a former life?
There is indeed reincarnation. And Bubba was a good little pink pig who was about to become twice-cooked pork, but I saved him. That's why I don't eat meat to this day and also why he wrote the story, How I Became a Giant Three-Pound Dog.

Is there anything that embarrasses him?
Sometimes Bubba dreams he is still the little pink pig from his past life about to be julienned and cooked with chilies, and his legs start running as he lies on his side. He tries to bark, but he sounds like he's snorting and wheezing. Suddenly he startles awake, jumps to his feet and barks bloody murder. When he sees me, his ears go back, and he grins and wags his tail. Then he settles back into the folds of the comforter, closes his eyes, smacks his lips, sighs, and goes to sleep.

What is it that he dislikes most?
He hates it when his sister Lilliput is standing on the edge of bed, mocking him for being a ninny, which she does every time he leaves to get a drink of water or to do a perimeter search of pigs. Her blocking position prevents him from doing a bedtime launch, which is an Olympic kind of gymnastic maneuver involving shooting up three fleece steps, vaulting over the bed bench and bouncing and landing on all four paws next to me. When he can't do the launch, he whines until I finally wake up and tell Lilliput to stop being a bitch.

What is his greatest fear?
That I will go out the door, forget where I live and that I ever had a giant three-pound dog.

What is his greatest accomplishment?
Well, he did graduate from obedience school with high honors. But his proudest accomplishment, he tells me, was the first time he protected me from dying a horrible death. He and I were the only overnight guests at the Thurber House, reputed to be haunted, and he woke me in the middle of the night, barking shrilly to tell me the closet door resembled a man who had killed his wife. And he was right. From that night on, Bubba knew he had natural psychic tendencies, which he vowed to use to keep me safe.

What is his favorite place?
That would be the lap. Mine.

What does he really like in other dogs?
Their backyards. He likes for them to show him all their favorite spots, to which he adds more spots.

Does he have a motto?
Wherever thou goest, I better go, too, with you, but also number one and number two.