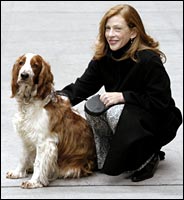 Susan Orlean's Inner Dog

If you haven't heard of Susan Orlean by now, you obviously don't get out much.

Orlean is the acclaimed author of The Orchid Thief, which has been made into the movie Adaptation featuring Nicholas Cage and Meryl Streep as the author. Orlean has also written innumerable essays and portraits for The New Yorker.

Some of these pieces have been collected in The Bullfighter Checks Her Makeup, which includes the profile of a show dog, a boxer named Biff. Orlean is also an avowed dog lover who waxes lyrical about her one-and-a-half-year-old Welsh Springer Spaniel, Cooper. Cooper is the most handsome dog in the world, Orlean writes on her website (www.susanorlean.com) below his portrait. He's 43 pounds and enjoys swimming, eating plastic, sitting on top of the newspaper when I'm reading it, and chicken. She is currently working on a dog cookbook tentatively called Throw Me A Bone.

The book will feature approximately 50 recipes for biscuits, main dishes, and snacks for dogs, along with nutrition tips and advice from vets and a trainer. Orleans says that she's working with Sally Sampson, a friend who is a very accomplished (human) cookbook writer. Actually, the byline on the book will be Mr. Cooper Gillespie, my dog, Orleans told us. But I'm going to do the typing.

What is his idea of perfect happiness?
Being squished between my husband and me in bed, with an imaginary giant squirrel sitting at the foot of the bed.

What is his favorite treat?
The mailman, dipped in chocolate.

If he could change one thing about himself, what would it be?
He would be a little taller, so he could reach the stuff on the back of the kitchen counter.

What is his most treasured possession?
His squishy pimply squeaky ball with the weird waggly extruding thing.

What is his most endearing quality?
His optimism. And his freckles.

Assuming there is such a thing as reincarnation, what or who might he have been in a former life?
Will Rogers.

Is there anything that embarrasses him?
When I kiss him all over his head in front of his friends.

What is it that he dislikes most?
Snowmen.

What is his greatest fear?
That the mailman will dip himself in chocolate and will marry the giant squirrel at the foot of the bed and they will run away without Cooper having a chance to eat them both.

What is his greatest accomplishment?
Unzipping a suitcase and finding the one-inch square piece of chocolate
packed inside it.

What is his favorite place?
Riverside Park in New York.

What does he really like in other dogs?
Good sense of humor. Toys. Money.

Does he have a motto?
Are you going to eat that?