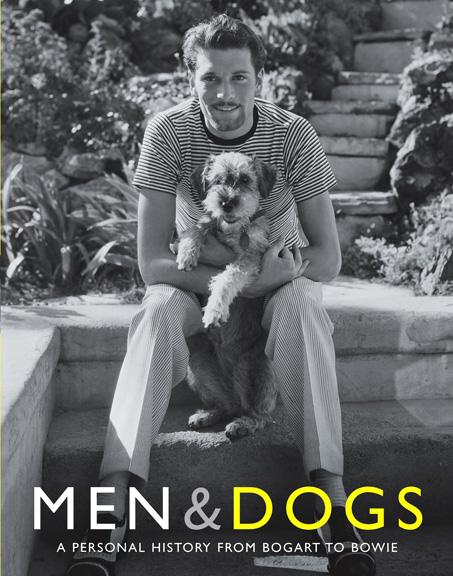 By:
Some Terrific Book Gift Ideas for the Dog Lover in Your Life
Men & Dogs: A Personal History from Bogart to Bowie
Women & Dogs: A Personal History from Marilyn to Madonna
By Judith Watt and Peter Dyer
Atria Publishing, June 2006
Trade Paperback, 160 pages
ISBN-10: 0-7432-8843-2
ISBN-13: 978-0-7432-8843-9
Sarah Jessica Parker has one. So did Ernest Hemingway. Joan Collins always wants more. Jake Gyllenhaal has a designer one. ..
Whether it's with a miniature Chihuahua or a large mutt, many celebrities are often seen in public with their dogs in tow. Now, Men & Dogs and Women & Dogs, by Judith Watt and Peter Dyer, offer rare photos of celebrities from movies, politics, history, sports and literature.
In Women & Dogs, Watt and Dyer compile photographs and touching stories from Audrey Hepburn to Sarah Jessica Parker. In one photo, Jacqueline Kennedy-Onassis is surrounded by her family and the multiple dogs they acquired while in the White House. Her ear-to-ear smile acknowledges their lovable canine friends.
In another photograph, actress Charlize Theron Is featured with her cocker spaniel, Denver. The actress is not only known for her Oscar-winning performance in Monster but also for her love of dogs and her stance on animal welfare.
Men & Dogs features celebrities ranging from Elvis Presley to Will Smith. One photograph shows Paul McCartney with Martha, his Old English sheepdog in 1967. He is quoted as saying, "Martha was really good for me; we were good for each other" and are depicted as happily in love.
In short, Men & Dogs and Women & Dogs are two marvelous and intriguing collections of photographs, history, and anecdotes from Atria Publishing, featuring superb images of some of the world's most famous and fascinating men and women, drawn from contemporary and archival sources, each accompanied by a story about the relationship between the man or woman and his/her dog (or dogs). A dog lover's dream, as well as a unique slice of social and fashion history, Men & Dogs and Women & Dogs reveal the dogs chosen by men and women from the worlds of art, literature, music, film, fashion, politics, sports, and more. Both books are available in paperback only.

Shelter Dogs
By Traer Scott
Merrell Publishers
ISBN-13: 978-1-8589-4352-7

We interviewed photographer Traer Scott in our last issue, in advance of the release of this beautiful, haunting and provocative book. In Shelter Dogs, Scott's endearing portraits of dogs living in American shelters are irresistible and heart-rending – and make a passionate appeal to dog lovers everywhere. Some of the dogs subsequently found good homes; others were never adopted. The portraits reveal the strikingly intense emotion, dignity and, sometimes, humour and whimsy that Scott saw in each face despite the dog's circumstances. By documenting the undeniable expressions of emotion in the dogs encountered in her volunteer work, Scott raises awareness of animal rescue causes, and especially the need for more adoptive homes for abandoned dogs. This book of true portraits of fifty beautiful shelter dogs is a poignant and loving tribute to all dogs.
Shelter Dogs is a must have for dog lovers, and especially those of us who have walked into a shelter and fallen in love with a furry stranger who then becomes our best friend on the ride home.
A portion of the proceeds from the sale of Shelter Dogs is donated to animal rescue charities.
Animals in Translation
By Temple Grandin

Temple Grandin's Animals in Translation speaks in the clear voice of a woman who emerged from the other side of autism, bringing with her an extraordinary message about how animals think and feel.
Temple's professional training as an animal scientist and her history as a person with autism have given her a perspective like that of no other expert in the field. Standing at the intersection of autism and animals, she offers unparalleled observations and groundbreaking ideas about both.
Autistic people can often think the way animals think -- in fact, Grandin and co-author Catherine Johnson see autism as a kind of way station on the road from animals to humans -- putting autistic people in the perfect position to translate "animal talk." Temple is a faithful guide into their world, exploring animal pain, fear, aggression, love, friendship, communication, learning, and, yes, even animal genius. Not only are animals much smarter than anyone ever imagined, in some cases animals are out-and-out brilliant.
Temple Grandin is like no other author on the subject of animals because of her training and because of her autism: understanding animals is in her blood and in her bones.
The sweep of Animals in Translation is immense, merging an animal scientist's thirty years of study with her keen perceptions as a person with autism -- Temple sees what others cannot.

How Dogs Think: Understanding the Canine Mind
By Stanley Coren

Simon & Schuster
June, 2005

ISBN: 0-7432-2232-6
It's been said that dogs personify all the virtues of humans without the vices. Henry James wrote that his dog was "most reasonable and well-mannered" and Plato that "a dog has the soul of a philosopher." Over the years, dogs have taught us many things: loyalty, courage, and to turn around three times before lying down. Yet even in the face of millennia of evidence of thoughtful dogs, there has been little systematic scientific study until recently of what is actually going on in the dog's mind, and some people even question whether dogs have the capacity for that which we call mind. In this long-anticipated new book, written in the vein of his enormously popular The Intelligence of Dogs and How to Speak Dog, Dr. Stanley Coren looks at both the heights of intellect and the depth of our misunderstanding of what goes on in a dog's mind.
A bestselling author, psychologist, and world-renowned expert on dog behavior and training, Dr. Coren is always at the forefront of discoveries about dogs. With his ever-entertaining, erudite style, he provides a fascinating picture of the way dogs interpret their world and their owners, how they solve problems, learn, and take in new information. Dr. Coren lets you see through a dog's eyes, hear through his ears, and even sense the world through a dog's nose, giving you the insight that you need to understand the silly, quirky, and apparently irrational behaviors that dogs demonstrate, as well as those stunning flashes of brilliance and creativity that they occasionally display. Along the way, How Dogs Think answers the questions about which you have always wondered, including: Can dogs count? Do they have an appreciation of art or music? Can a dog learn how to do something by just watching another dog or even a person do it? Do dogs dream? What is the nature of dog personality? Which behaviors are prewired into your dog and which can you actually change? And, can dogs sense future earthquakes or detect cancer?
With information not widely known to lay people, this lively guide also provides practical advice and wisdom that allows owners to discover the best ways to teach dogs new things, why punishment doesn't work, how a dog can actually learn to love or to fear, and how to turn that new puppy into a "perfect," emotionally sound, inquisitive, happy, and obedient dog.
Combining solid science with numerous funny, informative anecdotes and firsthand observations, bestselling author, psychologist, and world-renowned expert on dog behavior and training Dr. Stanley Coren presents the most informative, in-depth, fascinating book yet on dogs. Acclaimed for its solid scientific research and entertaining, eminently readable style, How Dogs Think gives you the insight that you need to understand the way dogs think.
How Dogs Think also answers questions about our canine companions that have puzzled many: Can dogs count? Do they have an appreciation of art or music? Can a dog learn how to do something just by watching another dog or even a person do it? Do dogs dream? What is the nature of dog personality? Which behaviors are prewired into your dog, and which can you actually change? And, can dogs actually sense future earthquakes or detect cancer? With sound behavioral science and numerous funny, informative anecdotes, experiments, and firsthand observations, How Dogs Think shatters many common myths and misconceptions about our four-legged friends and reveals a wealth of surprises about their mental abilities and potential. It will make you love and appreciate all dogs -- including your own -- in wonderful new ways.

New and Noteworthy
Miss Sarah's Guide to Etiquette for Dogs & Their People
By Sarah Hodgsom with Arthur Greenwald
Howell Book House
ISBN # 0-7645-9988-7
Today's dogs accompany their humans to all types of social settings, but doggish behaviors like car chasing, food stealing and excessive barking shouldn't have to be tolerated.
Miss Sarah's Guide to Etiquette for Dogs & Their People, by expert dog trainer, Sarah Hodgson, with writer-producer Arthur Greenwald, offers clever, creative suggestions for curbing canine misconduct, whether the pooch is at home, on a neighborhood stroll, at the local dog park, or even at a "pet-friendly" hotel.
The handbook, which plays homage to etiquette guides for human beings, includes illustrations with essential dog training advice and techniques that humorously address the importance of canine civility with a light, easy non-preachy approach.
Hodgson's keen knowledge of the canine's psyche helps readers detect common emotional and physical problems that might cause dogs to display disturbing behaviors such as indoor soiling, destructive chewing or constant nipping. She also shares how people's conduct around these willing-to-please pets might inadvertently cause some of the very behaviors that they are attempting to correct.
The icing on top of this book of canine etiquette is a pouch of note cards attached to the inside back cover…a reminder to all of us in this hi-tech age of internet and e-mail and instant communication that manners are not just for our pooches.