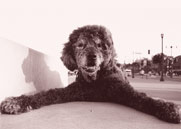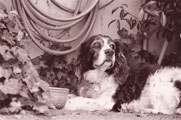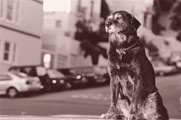 By: AJ Mistretta
Photograapher Mark Asher

Take a weekend walk through your neighborhood park and you're likely to see people with dogs of every shape, size and age. There will be kids with their puppies, couples with the dog they found and adopted together, relationships forming between human and animal right before your eyes. Notice though the interaction between the older dogs and their owners. Years together have created an intuition between the two that transcends the limitations of communication. The dog can sense his owner's emotions just as he can sense when it's time for a walk. It's a relationship of understanding, of trust, of comfort. If dog is truly man's best friend, the aging dog is his devoted, selfless comrade in a crazy world, his source of strength, his old friend.

That's just how Mark Asher captures the canine spirit in his new work published by Chronicle Books. In 45 images that are at times comical, at times moving, Old Friends explores the idea of facing old age head-on through the eyes of dogs that are barking up the tree of life.

The premise is simple enough. Dogs often teach humans so much about living, why not allow them to teach us something about the part where we all get older? Amid all of the needless things people worry about that prevent us from enjoying life dogs seem to have the right answers. Asher describes some of those secrets to long life through his photos and accompanying words.

Asher's foray into canine photography happened quite by accident. His appreciation for the natural beauty of California led to a hobby in landscape photography. It wasn't until he lost his job with an education software company during the dot-com bust in 2001 that the hobby became more serious. Living in Northern California and trying to decide what to do next with his life, Asher began taking pictures of his aging pup Humphrey.

"I guess it was being out of work and wanting to explore my creative side," he says. Soon, Asher began to notice other senior dogs during his regular walks with Humphrey that seemed to share his own dog's sense of spirit and wisdom. The idea began to form in his mind for a collection of photos on older dogs.

Asher visited Amazon.com to look for other books on this subject. To his surprise, despite dozens of photographic volumes on puppies and dogs in general, none centered on older canines. He put together a proof of concept for his book and pitched it to numerous publishers. No one was interested, but Asher persisted. Eventually he did get a deal with Chronicle - a quick deal. "I got the offer on July 3 and they wanted to release the book in the fall," he says. "I had only two months to turn in all of the images - a pretty tight timeframe to find the right dogs and the right situations."

Asher set to work posting his request for aging dogs in the San Francisco Bay area on Internet bulletin boards and elsewhere. A few of the dogs that ended up in the book were ones he already knew, like Molly, the golden retriever that graces the cover of the book. Molly was one of the dogs that Asher and Humphrey had met on their daily walks.

But others the photographer happened upon in various different ways. One woman reading his online posting sent Asher an email about her English bulldog but because of her inexperience with email, couldn't send him a picture of the dog. Still, the woman was persistent and even told Asher about the family duck that the dog loved. The thought was too funny. He took a leap of faith and met the woman and her family at a church in the suburbs. Nearby an old rundown baseball field provided the perfect backdrop for Bubba, the bulldog behind home plate. "It was a totally spontaneous thing, but it really captured him."

On another occasion, Asher was walking back to his car, exhausted after a long day of photographing, when he came upon a man walking his thick-haired mixed breed named Anna. Asher stopped the man and told him about the project. As the two tried to work out schedules to photograph Anna, Asher looked in the distance at the sun setting over the bay behind Golden Gate Bridge. "The light was just perfect," he says. "I turned to him and said 'can we do it now?' I put down my camera bag and started shooting. It was like getting a shot at the buzzer."

Some of the most poignant parts of the book are the "longevity secrets" - short one-liners on each dog that magically capture their own specific means of sticking around into their canine golden years. For instance, Ollie, a wiry-haired mixed breed, has his nose upturned towards the trees suggesting his secret to long life is "long, slow walks with time to sniff."

But the longevity secrets were not always a part of the book idea. Asher says the original proof of concept he presented to publishers did not include the phrases, those came later after conversations with each dog's owner and his own feelings of the dogs' personalities. Now he's glad he included them. "It's interesting, the people who have written to me about the book have really gotten a kick out of the longevity secrets; they say they've added a lot of color to the book.... I think they've added to the book's success."

Asher suggests the same thing that makes people gush over babies and puppies can explain the success of Old Friends. "There is such a different energy to an older dog," he says. "From a creative point of view, there's something about an older dog that goes straight to your soul. There's a lot of emotion in these pictures."

Readers seem to agree. The book has done very well and is currently in its fourth printing. Chronicle Books is about to release a series of note cards using images from Old Friends and the company recently made a deal with a European publisher to have the book printed in German. Also, this spring Eddie Bauer included Old Friends in its catalog. But more than the high sales and the accolades, Asher says it's the wonderful emails he receives from readers who say they've enjoyed his work that makes him feel good about what he's accomplished. "Sometimes I think back and say to myself, 'how did this come to be.' I think some of the most incredible things in your life, both good and bad, are surreal. But from the moment that I finished the proof of concept, I new that this was meant to be - I just knew it would happen."

Right now, Asher is working on his next photography project, a follow up to Old Friends that will also involve pets. He's also developed a business out of taking pictures of people's pets - something he enjoys a lot, but says it's not as easy as it sounds. "Photography as a profession is tough enough. Add to that the unpredictability of animals and it can be even more hectic."

Asher says because of their shorter life spans, dogs have the ability to teach people about the cycle of life. It's sometimes a hard lesson, especially for a young person, to watch the dog they grew up with get older and eventually pass away. But the impermanence of life is one of the aspects that makes it so precious. Dogs, he says, show us that our time, though short, should be cherished, and life lived to the fullest.