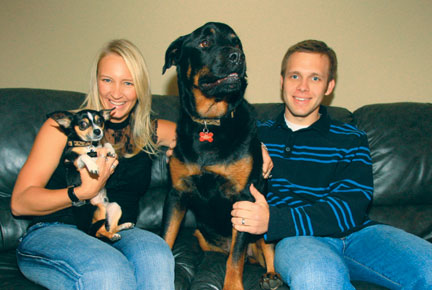 The Inner Dog – Ed Carpenter, Bentley and Roscoe

By Mallory Messina

IndyCar Racing superstar Ed Carpenter always wanted to be a race car driver. Growing up, Ed's friends would tease him when he would forgo playing sports only to dream about racing. Nowadays, they clamor for tickets to see him compete with Vision Racing in IndyCar Racing Series events like the 90th Running of "the greatest spectacle in racing", the Indianapolis 500, which will be held this year on May 28 at the Indianapolis Motor Speedway.

When Carpenter first broke in to the sport, he was best known for being the stepson of IndyCar founder, Tony George, but he quickly made a name for himself. In 2003, just months after graduating from Butler University with a degree in Marketing, Carpenter won the Freedom 100 at Indianapolis Motor Speedway and, now in his third full season of IndyCar Series competition, he hasn't slowed down since.

Carpenter hasn't been alone on this ride. He recently moved to a new home in Indianapolis with his wife, Heather, and he has some very special members of his pit crew: a Rottweiler named Bentley and a Chihuahua, Roscoe. Bentley used to travel with Carpenter to all of his races and even had his own "hard card" (that's racing speak for a season credential). When Bentley grew too large to travel, Roscoe stepped up to the plate and has become a constant traveling companion for Ed and Heather.

We wish Ed the best of luck in all his races this year, and thank him for answering our Inner Dog questionnaire.


What are their ideas of perfect happiness?

Bentley -Chasing Squirrels
Rosco- Cuddling under a blanket

What are their favorite treats?

Both - Milkbones

If each could change one thing about himself, what would it be?

Both - That they had balls.

What are their most treasured possession?

Bentley – any stuffed animal
Rosco – His favorite blanket

What are their most endearing qualities?

Bentley – His energy and playfulness
Rosco – His affection

Assuming there is such a thing as reincarnation, what or who might they have been in a former life?

Bentley – Tom Sawyer
Rosco – Romeo

Is there anything that embarrasses them?

Bentley – his e-collar post surgery
Rosco – no

What is it that they dislike most?

Bentley – leaving his grandparents farm
Rosco – when I blow in his face

What is their greatest fear?

Bentley – Fireworks
Rosco – Little Kids that want to hold him


What is their greatest accomplishment?

Bentley – Learning how to swim
Rosco – walking a full lap around the Indianapolis Motor Speedway

What is their favorite place?

Bentley – his grandparents farm
Rosco – In bed

What do they really like in other dogs?

Both – another playful dog

Does they each have a motto?

Bentley – You can't have enough treats in one day
Rosco – I'm not little.